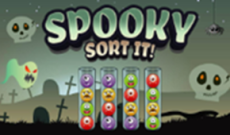 Spooky Sort It
Spooky Sort It is a captivating brain puzzle that challenges you to sort spectral balls into the right tubes. With each level, the challenge intensifies, testing ...
GAME INFO
Categories & Tags:
About Spooky Sort It
A Brain-Puzzling Journey into the Spectral Realm!
Introduction
Dive into a world where the spookiest elements come together with mental agility in "Spooky Sort It!" This game is no ordinary puzzle; it's a mind-sharpening brain teaser that challenges your wits and problem-solving skills. Your task? Sorting a collection of haunting balls into the right tubes. With spectral twists and turns that keep you on your toes, "Spooky Sort It!" offers a delightful escape from the ordinary and a unique way to challenge your brain. Are you ready to embark on this ghostly sorting adventure?
How to Play
Playing "Spooky Sort It" is as captivating as it is challenging. Your goal is to sort an array of spectral balls into the appropriate tubes. The catch? The tubes come with twists, turns, and eerie surprises that will test your problem-solving skills. You'll need to strategize, plan your moves, and make split-second decisions to get those spectral balls where they belong.
With each level, the difficulty escalates, introducing new elements and obstacles that keep you engaged. It's a fantastic way to keep your mind sharp and alert. Plus, the spooktacular atmosphere adds an extra layer of intrigue and excitement. If you're looking for a game that combines brain exercise and Halloween fun, "Spooky Sort It" has you covered.
Conclusion
"Spooky Sort It" is more than just a game; it's a mental workout with a Halloween twist. By tackling the challenge of sorting spectral balls in a ghostly setting, you not only enhance your problem-solving skills but also find a delightful way to unwind and destress.
Embrace the spectral realm, and download "Spooky Sort It" to embark on a journey that combines spooky fun and brain-boosting puzzles. Whether you're a puzzle enthusiast or simply seeking a unique way to keep your mind sharp, this game offers a refreshing and thrilling experience. Can you conquer the spectral twists and turns and become the master of sorting? Give it a try and test your skills in the intriguing world of "Spooky Sort It!"