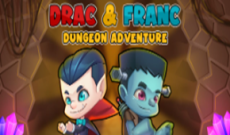 DRAC & FRANC
Drac & Franc: Dungeon Adventure invites you to join the unlikely duo of Dracula and Frankenstein on a thrilling journey. Team up with these iconic characters, ...
GAME INFO
Categories & Tags:
About Drac & Franc
Dungeon Adventure - A Spooky Duo's Journey!
Introduction
Prepare to be spellbound by the enchanting and thrilling world of "Drac & Franc: Dungeon Adventure." In this game, you'll embark on a mysterious and challenging journey alongside two iconic characters, Dracula and Frankenstein. Although they couldn't be more different, their partnership proved to be their greatest strength. Together, they navigate a series of adventures, each requiring the unique talents of this dynamic duo. Join them as they face ghoulish challenges and discover the true meaning of teamwork in the heart of the dungeon!
How to Play
Playing "Drac & Franc: Dungeon Adventure" is a captivating and engaging experience. As the player, you'll have the unique opportunity to control both Dracula and Frankenstein. Each character possesses distinct abilities and traits. Dracula is known for his flight and ability to transform into a bat, while Frankenstein is incredibly strong and resilient. To progress through the game, you must strategically switch between these two characters, utilizing their talents to overcome various obstacles and enemies.
On some levels, you'll need Dracula's flying skills to reach high platforms, while in others, Frankenstein's brute strength will be the key to success. By working together, these unlikely partners navigate through challenges, solve puzzles, and unravel the mysteries of the dungeon. It's a journey that not only tests your gaming skills but also highlights the power of collaboration.
Conclusion
"Drac & Franc: Dungeon Adventure" is more than just a game; it's an immersive experience that combines strategy, teamwork, and Halloween-themed excitement. By guiding Dracula and Frankenstein through a series of adventures, you'll witness the evolution of their partnership and the valuable lessons they learn along the way.
Download "Drac & Franc: Dungeon Adventure" and embark on a spooky journey that showcases the importance of cooperation. The game offers a unique twist on classic character dynamics and highlights the strengths of different individuals working together. Are you ready to assist Dracula and Frankenstein in their dungeon adventures and see what wonders teamwork can achieve? It's time to dive into the world of "Drac & Franc" and discover the magic of collaboration, all while enjoying the thrills of a fantastic game!