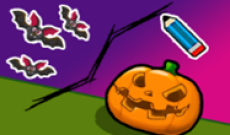 Save My Pumpkin
Save My Pumpkin is the ultimate Halloween challenge where you can showcase your drawing skills and quick thinking. Help a spooky pumpkin in distress by drawing ...
GAME INFO
Categories & Tags:
About Save My Pumpkin
A Spooktacular Halloween Challenge!
Introduction
"Save My Pumpkin" is back, and it's the Halloween-themed game that's won the hearts of kids all around the world. This second version takes the spooky fun to a whole new level. The gameplay revolves around a perilous situation: rescuing a creepy pumpkin through the power of drawing. Your drawing skills will be put to the test as you create essential barriers to protect the pumpkin from imminent danger. Are you ready to embrace the challenge and save this spooky pumpkin? Let's dive into the world of "Save My Pumpkin!"
How to Play
Playing "Save My Pumpkin" is a delightful blend of creativity and quick thinking. Your primary objective is to rescue a forlorn pumpkin in a series of perilous situations. You can do this by drawing lines and shapes strategically to create barriers that will shield the pumpkin from harm. The catch? You must be quick and accurate in your drawings, as time is of the essence, and the danger is very real.
As you progress through the game, the challenges become increasingly complex and demanding. You'll need to think on your feet and use your drawing skills wisely to ensure the pumpkin's safety. It's a thrilling combination of problem-solving and artistic expression, making it a perfect choice for both young and young-at-heart players.
Conclusion
"Save My Pumpkin" is a fantastic game that captures the spirit of Halloween and challenges your drawing skills. As you navigate through the spooky scenarios, you'll find yourself drawn into the delightful world of pumpkin rescue. It's a game that offers excitement, creativity, and the satisfaction of saving the day, or rather, the pumpkin.
Don't miss the opportunity to test your drawing prowess and quick thinking with "Save My Pumpkin." It's the perfect way to celebrate Halloween and keep the kids (and the kids at heart) entertained with its unique blend of spooky fun and creativity. So, if you're ready to take on the challenge and rescue the spooky pumpkin, start playing now and see if you have what it takes to be the pumpkin savior of the season!