Share Halloween Skeleton Smash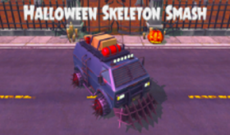 Halloween Skeleton Smash
Halloween Skeleton Smash is a high-speed car driving game where you take the wheel of a van and plow through an army of relentless skeletons. Your mission is to ...
GAME INFO
Categories & Tags:
About Halloween Skeleton Smash
Drive and Destroy!
Introduction
Get ready for a spine-tingling, bone-crushing experience in "Halloween Skeleton Smash." In this car driving game, you'll take the wheel of a van and put the pedal to the metal as you speed through a nightmarish landscape filled with relentless skeletons. Your mission? Smash as many of these bony adversaries as you can. But be forewarned, it's not all smooth sailing; some skeletons will fight back, dealing damage to your vehicle. Are you ready to embrace the chaos and destruction of "Halloween Skeleton Smash"?
How to Play
Playing "Halloween Skeleton Smash" is an exhilarating and straightforward experience. You'll control a van hurtling down a nightmarish road infested with skeletons. Your goal is to smash as many of these spooky adversaries as possible. The van will automatically accelerate, leaving you to focus on steering. Simply swipe or tilt your device to navigate through the onslaught.
But here's the twist: not all skeletons are passive. Some of them are armed and ready to retaliate. To survive, you must deftly dodge these hostile skeletons, making every second count in your high-speed rampage. The game's simplicity and intensity make it a perfect choice for a quick thrill during Halloween festivities.
Conclusion
"Halloween Skeleton Smash" is not your typical Halloween game; it's a high-speed, bone-crushing adventure that lets you unleash chaos and destruction upon an army of skeletons. As you navigate through the relentless horde, smashing skeletons left and right, you'll find yourself immersed in the exhilaration of the game.
Embrace the madness and play "Halloween Skeleton Smash" for an action-packed Halloween experience. Can you navigate your van through the skeleton army, smashing as many as you can while dodging those that fight back? Put your driving skills to the test and revel in the spooktacular destruction of this thrilling game. It's time to celebrate Halloween in a unique and unforgettable way – by smashing skeletons at full speed!