Share Halloween Makeup Trends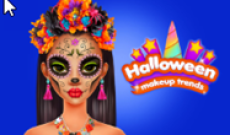 Halloween Makeup Trends
Halloween Makeup Trends is your ultimate guide to achieving jaw-dropping Halloween looks. Learn from social media influencers as they reveal the secrets behind ...
GAME INFO
Categories & Tags:
About Halloween Makeup Trends
Unleash Your Spooky Glam!
Introduction
Are you still in search of the perfect Halloween makeup look to turn heads and steal the spotlight on the spookiest night of the year? Look no further, because our social media influencers are here to the rescue! In the "Halloween Makeup Trends" game, we've brought together three jaw-dropping makeup looks that are guaranteed to help you make a dramatic entrance this Halloween. Learn from Kiki, Riri, and Regina as they reveal the secrets to creating a unicorn makeup look, a colorful Dia de Los Muertes-inspired makeup look, and sophisticated fantasy makeup. Get ready to transform your Halloween game with these captivating trends!
How to Play
In "Halloween Makeup Trends," you can step into the world of these three fantastic influencers, each offering a unique and stunning makeup style. Kiki will guide you through the steps to achieve a mesmerizing unicorn makeup look, complete with pastel hues and enchanting details. Riri is here to show you how to embrace the vibrant spirit of Dia de Los Muertes with colorful and intricate makeup designs. And if you're looking for a more sophisticated and otherworldly style, Regina will share her secrets to creating a fantasy makeup look that's nothing short of magical.
Playing the game is a breeze. Simply follow the step-by-step instructions and let your creativity flow. Experiment with different shades, brushes, and techniques as you recreate these captivating makeup trends. Whether you're a makeup novice or an experienced artist, "Halloween Makeup Trends" offers something for everyone. So, unleash your inner makeup artist and get ready to amaze your friends and fellow Halloween enthusiasts with your extraordinary makeup skills.
Conclusion
"Halloween Makeup Trends" is your go-to destination for Halloween makeup inspiration. With the guidance of Kiki, Riri, and Regina, you can bring your dream Halloween look to life. Whether you choose to be a mythical unicorn, a vibrant Dia de Los Muertes muse, or a character from a mystical fantasy world, this game provides endless possibilities to express your creativity.
Don't miss out on the opportunity to shine on the spookiest night of the year. Download "Halloween Makeup Trends" and embark on a makeup journey that will make you the center of attention at every Halloween gathering. The magic is in your hands, so start playing and create a Halloween look that's sure to turn heads and leave everyone in awe. Get ready to embrace your inner makeup artist and dazzle the Halloween night with your spectacular transformation!