Share Halloween Lonely Road Racing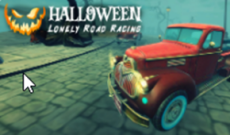 Halloween Lonely Road Racing
Halloween Lonely Road Racing is a 3D car dashing game set in the eerie atmosphere of Halloween Night. Select your vehicle and get ready for a thrilling ride ...
GAME INFO
Categories & Tags:
About Halloween Lonely Road Racing
A Thrilling Nighttime Adventure
Introduction
Buckle up for a spine-tingling ride with "Halloween Lonely Road Racing," a 3D car dashing game set in the heart of Halloween Night. In this hair-raising adventure, you'll choose your vehicle and prepare to race through extraordinary and atmospheric levels. Get ready to encounter pumpkins and unnerving surroundings as you navigate the winding and mysterious roads of Halloween night.
How to Play
Playing "Halloween Lonely Road Racing" is a pulse-pounding experience. As you prepare for your nighttime race, select your vehicle and get behind the wheel. Your goal is to race through the levels filled with pumpkins and spooky atmospheres, but it won't be a leisurely drive.
You'll need to showcase your driving skills as you navigate the challenging terrain, all while maintaining your speed to outpace your competitors. The atmospheric levels will keep you on your toes, and the Halloween-themed surroundings create an immersive and intense racing experience. Keep your eyes peeled for those pumpkins, as they add an extra layer of excitement to the game.
Conclusion
"Halloween Lonely Road Racing" is more than just a car racing game; it's a Halloween-themed adventure that combines the thrill of high-speed racing with the eerie atmosphere of the season. The pumpkins and spooky surroundings add to the ambiance, creating a unique and engaging racing experience.
If you're ready for an exhilarating nighttime adventure on Halloween, play "Halloween Lonely Road Racing." Choose your vehicle, race through atmospheric levels, and prepare for a race like no other. It's time to embrace the spookiness of the season and test your racing skills in the world of "Halloween Lonely Road Racing." Are you up for the challenge?