Share Halloween Mahjong Tiles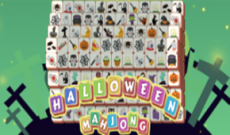 Halloween Mahjong Tiles
Halloween Mahjong Tiles is a classic tile-matching game with a spooky Halloween theme. Match pairs of identical tiles with open left or right sides to clear ...
GAME INFO
Categories & Tags:
About Halloween Mahjong Tiles
A Spooktacular Tile-Matching Adventure!
Introduction
Get ready to immerse yourself in the world of Halloween with "Halloween Mahjong Tiles." This classic tile-matching game takes on a spooky theme, perfect for celebrating the season. Your mission, should you choose to accept it, is to match pairs of the same tiles and clear them from the board. But, here's the catch: you can only select pairs of tiles with either the left or right side open. With a timer ticking away, your challenge is to clear all the tiles as quickly as possible. If you find yourself stuck, don't worry, hints and shuffles are at your disposal. It's time to dive into the enchanting world of "Halloween Mahjong Tiles."
How to Play
Playing "Halloween Mahjong Tiles" is both fun and challenging. Your goal is to clear the game board by matching pairs of identical tiles. To make a match, the selected tiles must have either their left or right side open. The catch is that you're racing against the clock, so it's all about quick thinking and fast clicking.
As you progress through the levels, the game becomes increasingly challenging, testing your observation and memory skills. If you ever find yourself stuck or in need of a little help, don't hesitate to use the hints and shuffles. These tools can provide valuable assistance and keep the game moving.
Conclusion
"Halloween Mahjong Tiles" is a delightful blend of strategy, memory, and Halloween-themed fun. It offers an exciting way to celebrate the season while challenging your mind. The timer keeps you on your toes, and the satisfaction of matching pairs and clearing the board is a reward in itself.
Play "Halloween Mahjong Tiles" and embark on a spooktacular tile-matching adventure. Race against time, match pairs, and celebrate Halloween with this engaging and addictive game. Can you clear all the tiles before the clock runs out? It's time to put your Mahjong skills to the test and enjoy the festivities of Halloween Mahjong Tiles.