Share Hungry Shark Arena Horror Night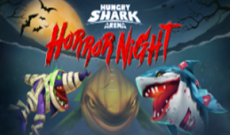 Hungry Shark Arena Horror Night
Hungry Shark Arena Horror Night is a spine-tingling shark battle royale game set in the eerie darkness of the underwater world. Take on the role of a hungry ...
GAME INFO
Categories & Tags:
About Hungry Shark Arena Horror Night
Dive into the Depths of Darkness
Introduction
As darkness falls across the sea and the midnight hour draws near, something sinister stirs beneath the waves. In the eerie depths of the ocean, hungry creatures prowl, searching for their next meal. It's a spooky time in "Hungry Shark Arena Horror Night," where the battle for underwater supremacy takes a thrilling and ominous turn. This is not your ordinary shark adventure – it's a shark battle royale that will keep you on the edge of your seat.
How to Play
Playing "Hungry Shark Arena Horror Night" is a heart-pounding experience. You'll take on the role of a hungry shark, and your mission is to devour other fish and grow to become the biggest, most fearsome shark in the underwater world. It's a war for survival and dominance, where the last shark standing claims victory.
Your survival depends on your ability to outmaneuver and outsmart other sharks, all while satisfying your insatiable hunger. It's a ruthless competition where you must eat or be eaten. The game offers a blend of strategy, speed, and cunning as you navigate the treacherous waters and vie for supremacy.
Conclusion
"Hungry Shark Arena Horror Night" is not your typical underwater adventure; it's a battle for survival that takes you into the heart of darkness. The spooky atmosphere, fierce competition, and the thrill of the chase create a one-of-a-kind gaming experience.
Dive into the depths of "Hungry Shark Arena Horror Night" and experience the adrenaline rush of a shark battle royale. Can you outswim, outwit, and outlast your fellow sharks to claim the title of the biggest predator in the deep blue sea? Play the game and get ready to embark on a spine-tingling underwater adventure like no other. Are you brave enough to face the horrors of the deep?