Share Halloween Sliding Puzzle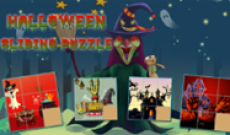 Halloween Sliding Puzzle
Halloween Sliding Puzzle is a classic puzzle game with a spooky twist. Unscramble Halloween-themed images by sliding the blocks into the correct order. The game ...
GAME INFO
Categories & Tags:
About Halloween Sliding Puzzle
Unscramble the Spooky Images!
Introduction
Step into the world of Halloween excitement with "Halloween Sliding Puzzle." This HTML5 classic puzzle game offers a delightful challenge that's perfect for all ages. If you enjoy brain teasers and Halloween-themed fun, you're in for a treat. Your task is to rearrange the pieces of frighteningly fun images to assemble them in the correct order. With a simple and intuitive gameplay, "Halloween Sliding Puzzle" promises hours of entertainment. Are you ready to unscramble the spooky images and embrace the Halloween spirit? Let's get started!
How to Play
Playing "Halloween Sliding Puzzle" is as easy as it is addictive. The objective is to rearrange the pieces of a Halloween-themed image to form the complete picture. To do this, you'll need to slide the individual blocks of the image between the tiles to place them in the correct order. You can touch or click a block to shift it into an adjacent blank space, gradually reassembling the image.
While the concept is simple, the challenge increases as you progress through the game. The images become more complex, demanding a keen eye and a strategic approach to solve them. It's a game that encourages logical thinking and attention to detail. With Halloween-themed images to assemble, the fun is not just in the gameplay but also in the delightful spookiness of the images.
Conclusion
"Halloween Sliding Puzzle" is a perfect choice for puzzle enthusiasts and Halloween lovers. It combines the charm of classic puzzles with the festive spirit of Halloween. As you unscramble the spooky images, you'll find yourself immersed in the game's simplicity and entertainment.
Playing "Halloween Sliding Puzzle" to embark on a puzzle-solving journey with a Halloween twist. Challenge your friends and family to beat your best time or solve complex Halloween-themed puzzles. It's a game that keeps you engaged while embracing the spirit of the season. So, whether you're looking for a casual way to unwind or a brain-teasing adventure, "Halloween Sliding Puzzle" has got you covered. Get ready to rearrange the pieces and celebrate Halloween in style!