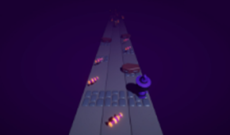 Spooky Run
Spooky Run challenges you to collect sweets on the spookiest night of the year. Run through a haunted landscape, but beware of dangers along the way. Every candy ...
GAME INFO
Categories & Tags:
About Spooky Run
Collect Sweets on the Scariest Night!
Introduction
Get ready for a spine-tingling adventure with "Spooky Run." On the scariest night of the year, your mission is simple yet thrilling: run and collect as many sweets as you can. But beware, danger lurks, and one wrong move could end your run. However, take solace in the fact that you can enjoy all the candies you've gathered. There's a special treat in store for you too—unlock a unique character using your hard-earned candies and aim to beat your high score. Are you ready to dash through the spookiness of "Spooky Run"?
How to Play
Playing "Spooky Run" is a delightful mix of skill and strategy. Your goal is to control your character and guide them through a haunted landscape, all while collecting as many sweets as possible. But here's the catch: spooky dangers and obstacles are scattered throughout your path. You must skillfully navigate these perils, jumping or sliding to avoid them. Every candy you collect brings you closer to unlocking a special character.
As you progress, the challenges become more complex, requiring precise timing and quick reflexes. The game keeps you on your toes, offering endless excitement as you strive to collect as many sweets as possible. And don't forget to aim for that high score. Can you beat your own record and unlock the special character that awaits?
Conclusion
"Spooky Run" is the ultimate Halloween adventure that combines thrills with sweet rewards. As you dash through the haunted landscape, collecting candies and dodging dangers, you'll find yourself immersed in the excitement of the game. And, of course, there's the added motivation of unlocking a special character and achieving the highest score.
Don't miss the chance to experience the spine-tingling fun of "Spooky Run." Play the game now and embark on a Halloween adventure filled with candies and challenges. Can you navigate the spookiness and collect all the sweets on the scariest night of the year? It's time to find out and aim for a high score that will leave your friends in awe. Get ready to run, collect, and conquer in "Spooky Run"!