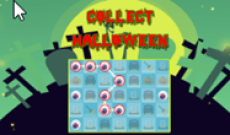 Halloween Collect
Halloween Collect is a thrilling Halloween-themed game where you collect spooky items by matching identical adjacent ones. Challenge yourself by creating matches ...
GAME INFO
Categories & Tags:
About Halloween Collect
A Spooky Puzzle Adventure!
Introduction
Welcome to the thrilling and captivating world of "Halloween Collect." In this Halloween-themed HTML5 game, you'll embark on an adventure to collect a variety of spooky and delightful Halloween items. This game is not just a fun pastime; it's a challenge that will put your skills to the test. The objective is simple: match identical adjacent items by moving your mouse or fingertip. You must select at least three items to make them vanish, with every sixth item granting a bonus. To keep the excitement alive, matching more than seven items will reward you with a precious time bonus. But be quick; you must collect the target squid items within the given time to keep the game going. So, how far can you go? Let's dive into "Halloween Collect" and see how high you can climb!
How to Play
Playing "Halloween Collect" is both entertaining and challenging. To get started, simply press any Halloween item to begin your collection journey. Now, move your mouse or finger tip on identical adjacent items. You can match items horizontally, vertically, or even diagonally. The more items you match, the more points you'll earn. However, be mindful of the time, as you must collect the target squid items within the allocated time to advance to the next level.
The game keeps you on your toes by offering bonuses for every sixth matched item and time bonuses for matching more than seven items. These bonuses can be the key to reaching higher levels and achieving your best score. As you progress, the game becomes increasingly challenging, testing your speed and strategic thinking.
Conclusion
"Halloween Collect" is more than just a game; it's a thrilling challenge that blends fun with strategic thinking. It offers a delightful way to celebrate Halloween and test your matching and time-management skills. As you collect Halloween items and work against the clock, the excitement and sense of accomplishment keep you coming back for more.
If you're looking for a Halloween-themed game that combines entertainment and strategy, "Halloween Collect" is the perfect choice. Download the game now and embark on an adventure to see how far you can climb and how high you can score. Can you collect all the target squid items and reach the highest level? It's time to find out and challenge your friends to beat your score in this engaging and addictive Halloween game!