Share FNF: VS Spidey the Fangirl!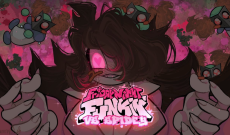 FNF: VS Spidey the Fangirl!
"FNF: VS Spidey the Fangirl!" is a hilarious Friday Night Funkin' mod where Boyfriend takes on the eccentric and enthusiastic Tricky fangirl, Spidey, in a rap ...
GAME INFO
Categories & Tags:
A Hilarious Friday Night Funkin' Mod
Introduction
Get ready for a hilarious and entertaining rap battle in "FNF: VS Spidey the Fangirl!" This Friday Night Funkin' mod brings you a unique and fun-filled showdown featuring Tricky, Boyfriend, and Spidey, a fangirl with a quirky taste in men. Join the musical madness and see who comes out on top in this epic battle of the beats.
How to Play
In "FNF: VS Spidey the Fangirl," you'll step into the shoes of Boyfriend as you take on Spidey, who happens to be a die-hard Tricky fan. Here's how to play:
Rap Battle: Engage in a rhythm-based rap battle with Spidey. Follow the on-screen prompts to hit the right notes and keep the music flowing.

Watch Out for Spidey: Spidey may have a peculiar taste in men, but she's no pushover. Be prepared for some unexpected twists and challenges as you face off against her.

Keep the Beat: Stay on beat and hit the notes perfectly to impress Spidey and secure your victory. Don't let her unique preferences throw you off!
Conclusion
"FNF: VS Spidey the Fangirl!" is a fantastic addition to the Friday Night Funkin' mod lineup, offering players a chance to experience a rap battle like no other. With its quirky characters and entertaining storyline, this mod is sure to keep you entertained for hours. So, grab your microphone and get ready to face off against Spidey in a musical showdown that's anything but ordinary!