Share FNF vs Gummibar – Gummy Bear Song
FNF vs Gummibar – Gummy Bear Song
FNF vs Gummibar – Gummy Bear Song is a Friday Night Funkin mod that introduces a whimsical and entertaining twist to the game. Featuring the jiggly and green ...
GAME INFO
Categories & Tags:
About FNF vs Gummibar – Gummy Bear Song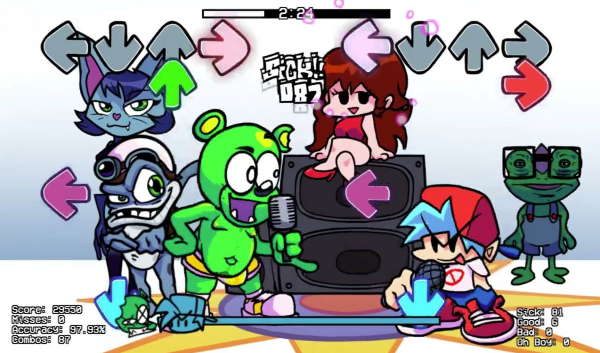 Introduction
Prepare for a uniquely delightful musical showdown in FNF vs Gummibar – Gummy Bear Song, a one-shot Friday Night Funkin mod that adds a bouncy twist to the rhythm game. This hilarious mod introduces Gummibar, the jiggly and green gummy bear candy, as he takes center stage in a toe-tapping rap battle featuring the infectious Gummy Bear Song.
How to Play
Select Your Mode: Dive into the fun by choosing your preferred game mode, whether it's Story Mode, Free Play, or any other available option.
Meet Gummibar: Face off against the jiggly Gummibar as Boyfriend, and get ready for a rap battle infused with the playful spirit of the Gummy Bear Song.
Navigate the Bounces: Watch as Gummibar bounces and jiggles to the beat, and hit the corresponding keys to match the rhythm. Experience a hilarious and entertaining take on the classic Friday Night Funkin gameplay.
Enjoy the Gummy Vibes: Immerse yourself in the whimsical world of Gummibar, where the colorful and infectious Gummy Bear Song sets the stage for a light-hearted musical duel.
Customize Your Experience: Explore mod features and settings to tailor your gameplay experience, ensuring that every bounce and beat align perfectly.
Conclusion
FNF vs Gummibar – Gummy Bear Song injects a dose of humor and playfulness into the Friday Night Funkin universe. The jiggly antics of Gummibar combined with the catchy Gummy Bear Song create a rap battle experience that is as entertaining as it is infectious.
Whether you're a seasoned player or a newcomer, this mod promises a lighthearted adventure that will have you bouncing to the beats. So, grab your keyboard, get ready to face the jiggly Gummibar, and immerse yourself in the sweet and silly world of the Gummy Bear Song. The stage is set, and the bouncy beats await!