Share FNF Skibidi Toilet – Toilet Night War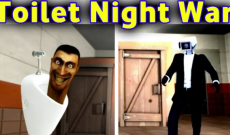 FNF Skibidi Toilet – Toilet Night War
"FNF Skibidi Toilet – Toilet Night War" is a hilariously unconventional Friday Night Funkin' mod where you'll engage in an epic rap battle against a cast of ...
Get Ready for a Hilarious Showdown!
If you thought Friday Night Funkin' couldn't get any wackier, think again! Introducing "FNF Skibidi Toilet – Toilet Night War," a mod that's taking the FNF universe to a whole new level of absurdity. In this quirky modification, you'll witness an epic rap battle between none other than the Cameraman and a cast of lively toilets. Yes, you read that right – toilets!
An Unconventional Rap Showdown
"FNF Skibidi Toilet – Toilet Night War" reimagines the FNF experience with a hefty dose of humor and creativity. While the FNF series is known for its quirky characters and offbeat stories, this mod takes the zaniness to another level. Who would've thought that a rap battle with toilets could be so entertaining?
How to Play
Just like in the original Friday Night Funkin', your goal is to hit the right notes and outperform your quirky opponents. The controls are simple: use the arrow keys to match the notes as they reach the bar at the top of the screen. Keep up the rhythm, and you'll secure your victory in this unusual showdown.
What to Expect
"FNF Skibidi Toilet – Toilet Night War" is packed with hilarious moments, catchy tunes, and a fair share of surprises. It's a mod that doesn't take itself too seriously, offering players a chance to enjoy the lighter side of the FNF universe. With the Cameraman and animated toilets as your adversaries, you can expect the unexpected in this unconventional rap battle.
So, if you're up for a wild and comedic musical ride, give "FNF Skibidi Toilet – Toilet Night War" a try. It's a fantastic addition to the ever-expanding world of Friday Night Funkin' mods, and it's bound to leave you with a smile on your face. Get ready to drop some funky beats and face off against the most unexpected opponents in the world of rhythm gaming!