Share FNF Quiet, but Everyone Sings it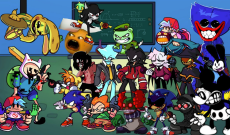 FNF Quiet, but Everyone Sings it
"FNF Quiet, but Everyone Sings It" unites characters from different Friday Night Funkin' mods in a harmonious musical showdown. Enjoy a symphony of voices as ...
Uniting Mods in a Harmonious Melody
If you're a fan of the Friday Night Funkin' universe, you're in for a musical treat! "FNF Quiet, but Everyone Sings It" is a mod that brings together a diverse cast of characters from various other mods to showcase their vocal talents. As they take turns singing to the serene melody of "Quiet" from CN Takeover, you'll witness a harmonious fusion of creativity and rhythm.
Introduction
In the world of Friday Night Funkin', music is the universal language, and this mod proves it in the most delightful way possible. Imagine Boyfriend, Girlfriend, and a slew of other mod characters coming together to perform a captivating rendition of "Quiet." The result? A symphony of voices, each bringing its unique flavor to the table.
How to Play
Playing "FNF Quiet, but Everyone Sings It" is a breeze, especially if you're familiar with the mechanics of Friday Night Funkin'. Here's how it works:
Choose Your Character: Begin by selecting your preferred character from the mod's extensive lineup. Each character has their own unique style and personality, adding an extra layer of fun to the gameplay.

Rap Battle: Once you've made your character selection, it's time to hit the stage. Engage in an epic rap battle against your opponent, following the rhythm and cues of the song.

Musical Mastery: As the song progresses, you'll need to hit the correct notes by pressing the corresponding keys at the right time. The better your timing and accuracy, the higher your score and chances of winning the rap battle.

Enjoy the Show: Sit back and enjoy the incredible performance as each character takes their turn to shine. Listen to their unique rap styles and watch as they bring their personalities to life through music.

Victory or Defeat: The outcome of each rap battle depends on your performance. Strive for victory by nailing those notes and outperforming your opponent.
Conclusion
"FNF Quiet, but Everyone Sings It" is a testament to the creativity and passion of the Friday Night Funkin' modding community. It's a celebration of music, diversity, and collaboration, bringing characters from various mods together in a harmonious and entertaining experience. Whether you're a fan of the original game or a newcomer looking for a fresh twist on the FNF universe, this mod promises an unforgettable musical journey. So, grab your microphone, hit the stage, and let the rhythm guide you to victory!