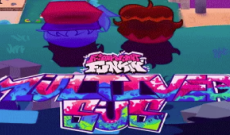 FNF: Multiver-Sus
"FNF: Multiver-Sus" is a FNF mod that invites players to engage in epic rap battles across the multiverse. Face off against imposters from different dimensions, ...
A Rhythm Showdown Across the Multiverse
Introduction
Step into the chaotic world of imposters, rhythm, and endless possibilities with "FNF: Multiver-Sus." This exciting Friday Night Funkin' mod takes Boyfriend and Girlfriend on a musical journey across the multiverse, where they'll face off against imposters from various dimensions. Get ready to groove to the beat, prove your rhythm skills, and conquer the ultimate impostor showdown.
How to Play
"FNF: Multiver-Sus" follows the classic Friday Night Funkin' gameplay mechanics, but with a unique twist. You'll engage in rap battles against imposters from different universes, each with their own style and challenges.
Choose Your Opponent: Navigate through the multiverse and select your opponent for each rap battle. Each imposter has its unique personality and rhythm patterns.

Hit the Right Notes: As the music plays, you'll see arrows moving towards your character. Your goal is to hit the corresponding arrow keys at the right time to match the rhythm and keep the rap battle going.

Timing is Key: Pay close attention to the arrows' speed and patterns, as they become more complex as the battles progress. Stay on beat and maintain your performance to impress your multiverse adversaries.

Watch the Story Unfold: Along the way, you'll uncover an intriguing storyline that ties all these imposters together. Dive deeper into the multiverse mystery as you progress through each rap battle.

Win and Unlock New Challenges: Successfully defeat imposters to unlock new challenges and songs. The more you conquer, the closer you get to unveiling the secrets of the multiverse.
Conclusion
"FNF: Multiver-Sus" offers an exciting fusion of the Friday Night Funkin' universe with the thrilling world of imposters from different dimensions. With its unique gameplay and captivating storyline, this mod promises hours of rhythmic entertainment. Are you ready to face the multiverse's imposters and prove your musical prowess? Dive into the rhythm showdown and prepare to be wowed by "FNF: Multiver-Sus."