Share FNF Faker (Ice Cap Mix)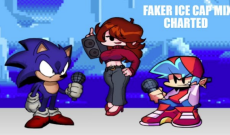 FNF Faker (Ice Cap Mix)
"FNF Faker (Ice Cap Mix)" is a refreshing Friday Night Funkin' mod that puts a frosty spin on the popular Faker song. Groove to the beat of this chilly remix by ...
GAME INFO
Categories & Tags:
Chilling Rhythms Await!
Experience the cool beats of "FNF Faker (Ice Cap Mix)," a Friday Night Funkin' mod that puts a frosty twist on the beloved Faker song. Get ready to groove to the icy remix created by DanlyDaMusician and brought to life by Aureor. In this musical journey, you'll face off against challenging opponents in a battle of rhythm and style. Can you keep your cool and conquer the frozen beats? Let's dive into the details of this frosty FNF adventure.
Introduction
"FNF Faker (Ice Cap Mix)" invites players into a unique Friday Night Funkin' experience. It combines the best of the original Faker song with a chilly twist, creating a refreshing and captivating musical showdown. This mod offers a fresh take on the beloved FNF universe, featuring new characters and a frosty atmosphere that will keep you engaged from start to finish.
How to Play
Playing "FNF Faker (Ice Cap Mix)" is easy for both newcomers and seasoned FNF fans:
Hit the Right Notes: As with other FNF mods, your goal is to hit the right notes at the perfect time. Use the arrow keys to match the on-screen prompts with your keyboard inputs.

Stay on Beat: Keep an eye on the rhythm bar at the top of the screen. It shows you the timing for each note. Timing is crucial, so stay on beat to impress your opponents.

Follow the Story: Immerse yourself in the mod's storyline as you take on various characters in epic rap battles. Each opponent offers a unique challenge, and the frosty atmosphere adds an extra layer of excitement.

Master the Remix: The Ice Cap Mix of the Faker song adds an element of surprise and creativity to the gameplay. Embrace the icy beats and adapt your rhythm to this fresh twist on the classic tune.
Conclusion
"FNF Faker (Ice Cap Mix)" is a fantastic addition to the Friday Night Funkin' mod library. It combines the best of the original game with a frosty remix that will have you hooked from the first note. Whether you're a dedicated FNF fan or just looking for some rhythmic fun, this mod offers an enjoyable experience you won't want to miss. So, put on your dancing shoes, embrace the cold, and get ready to conquer the ice-cold beats in this cool FNF adventure!