Share FNF Double Kill v2 Playable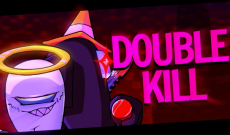 FNF Double Kill v2 Playable
FNF Double Kill v2 Playable is a fan-made Friday Night Funkin' mod that revamps the popular "Double Kill" song, offering players a chance to test their rhythm ...
GAME INFO
Categories & Tags:
Unleash Your Inner Rhythm Master!
Introduction
"FNF Double Kill v2 Playable" is a fan-made modification of the original Friday Night Funkin' game. It's designed to bring new life to the beloved "Double Kill" song, known for its catchy tune and challenging beats. The mod offers players the opportunity to play through this iconic track, adding another layer of enjoyment to the FNF experience.
How to Play
Playing "FNF Double Kill v2 Playable" is a breeze for anyone familiar with Friday Night Funkin'. Here's a quick rundown of the gameplay:
Character Selection: Start by choosing your character, who will represent you in the rap battle. The mod features a diverse cast of characters to keep things fresh and exciting.

Rap Battles: Engage in rap battles against your opponents, following the rhythm and beat of the remastered "Double Kill" song. Your goal is to hit the right notes and arrows at the correct time to outperform your rival.

Enjoy the Music: One of the standout features of this mod is the revamped "Double Kill" track. Immerse yourself in the music, tap your feet, and groove along as you aim to conquer your adversaries.

Progress Through Levels: Like most FNF mods, "FNF Double Kill v2 Playable" offers multiple levels, each presenting a unique challenge. Progress through these levels, defeat your opponents and prove yourself as the ultimate rap champion.
Conclusion
"FNF Double Kill v2 Playable" adds an exciting twist to the Friday Night Funkin' universe by revitalizing a fan-favorite song. With its engaging gameplay and catchy beats, this mod is a must-try for rhythm game enthusiasts and FNF fans alike. Prepare to unleash your inner rhythm master and conquer the rap battles with style in this musical showdown. So, grab your microphone and get ready to groove your way to victory!