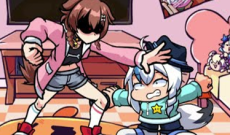 FNF DOOG Holofunk
FNF DOOG Holofunk is a dynamic and energetic mod that places the adorable virtual YouTuber Korone in a rap-battle showdown with Aloe. Armed with a chainsaw and ...
About FNF DOOG Holofunk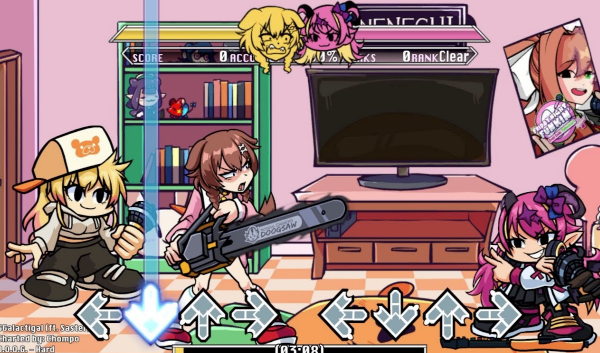 In the quirky and captivating world of Friday Night Funkin' mods, the FNF DOOG Holofunk mod stands out as a unique and entertaining addition. This rhythm game plunges you into a musical showdown between two formidable opponents, Korone and Aloe. Armed with a chainsaw and a microphone with a guitar, this unlikely pair engages in an epic rap-battle, grooving to the infectious beats of the DOOG song.
Introduction
FNF DOOG Holofunk takes the classic Friday Night Funkin' formula and injects it with a dose of Hololive creativity. It features Korone, the virtual YouTuber known for her charming dog-like persona, and Aloe, who wields a microphone and a guitar, ready to rock your world. This mod is an amalgamation of musical showdowns and quirky charm, making it a must-try for fans of the FNF universe and Hololive enthusiasts alike.
How to play
Playing FNF DOOG Holofunk is a straightforward yet exhilarating experience. To kick off your musical showdown, you'll begin by selecting your character, either the chainsaw-wielding Korone or Aloe with her microphone and guitar. Once you've made your choice, the rap battles commence. Your objective is to hit the correct notes and arrows in time with the DOOG song's rhythm. Follow the beat meticulously to outperform your opponent and claim victory in this unique FNF mod. As the catchy tunes flow, channel your inner rockstar, stay in sync with the music, and deliver a performance that leaves the crowd roaring. It's all about timing and rhythm, so get ready to showcase your musical prowess in this thrilling rap-battle extravaganza.
Conclusion
FNF DOOG Holofunk is more than just a mod; it's a delightful fusion of music, creativity, and charm. The combination of Korone's chainsaw antics and Aloe's musical prowess creates a memorable experience that will have you tapping your feet and craving more. Dive into the world of Hololive and FNF like never before, as you embrace the musical challenge presented by DOOG Holofunk. Whether you're a Hololive fan or an FNF enthusiast, this mod offers an exciting and entertaining addition to your gaming collection. So, gear up and get ready to face off against the most unexpected yet delightful rap-battle in the world of FNF. It's a musical showdown you won't want to miss!