Share FNF Deepsea Scuffle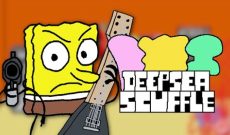 FNF Deepsea Scuffle
"FNF Deepsea Scuffle" is a hilarious FNF' mod that brings the world of SpongeBob SquarePants to life. Join Boyfriend as he faces off against iconic Bikini Bottom ...
GAME INFO
Categories & Tags:
Dive into Nautical Rap Battles with "FNF Deepsea Scuffle"
Introduction
Get ready for a hilarious underwater adventure in "FNF Deepsea Scuffle," a Friday Night Funkin' mod that takes you to the vibrant and comical world of SpongeBob SquarePants. This mod is a delightful throwback to the late 2000s and early 2010s, featuring iconic characters and settings from the beloved animated series. Join Boyfriend as he faces off against some of Bikini Bottom's most memorable residents in epic rap battles that will leave you in stitches.
How to Play
"FNF Deepsea Scuffle" offers a fresh twist on the classic Friday Night Funkin' gameplay. Here's how to dive into the action:
Choose Your Opponent: In this mod, you'll rap-battle against various characters from the SpongeBob SquarePants series. From SpongeBob himself to Squidward, Patrick, Mr. Krabs, and more, you'll encounter a range of quirky opponents.

Groove to the Beats: Just like in the original Friday Night Funkin', you'll need to hit the right keys at the right time to match the rhythm and lyrics of your opponent. Follow the on-screen prompts and keep the beat to outshine your competitors.

Enjoy the Nautical Nostalgia: "FNF Deepsea Scuffle" is a nostalgic trip down memory lane for fans of the SpongeBob series. The mod features references to classic episodes, hilarious dialogue, and catchy tunes that will transport you straight to Bikini Bottom.

Experience SpongeBob's World: The mod faithfully recreates the underwater world of Bikini Bottom, complete with its colorful characters and iconic locations. Each battle backdrop is a familiar setting that adds to the overall charm of the game.

Uncover the Laughs: The humor and wackiness of SpongeBob SquarePants are at the core of "Deepsea Scuffle." Prepare for laugh-out-loud moments as you engage in rap battles filled with quirky exchanges and comedic situations.
Conclusion
"FNF Deepsea Scuffle" offers a delightful crossover experience for fans of both Friday Night Funkin' and SpongeBob SquarePants. It's a mod that combines nostalgia, humor, and rhythm gameplay into a package that's sure to entertain players of all ages. So, put on your virtual snorkel and get ready to rap your way through the zany underwater world of Bikini Bottom in this fun and whimsical Friday Night Funkin' mod.