Share FNF Card Game Blues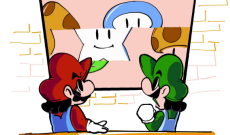 FNF Card Game Blues
"FNF Card Game Blues" is a one-song Friday Night Funkin' mod that invites players to join Mario and Luigi in a rhythmic showdown while they play slots to win rewards.
GAME INFO
Categories & Tags:
Join Mario and Luigi for a Musical Slot Showdown!
If you're a fan of the popular rhythm game Friday Night Funkin' (FNF), get ready for a unique and entertaining mod that combines music, gaming, and a dash of nostalgia. In "FNF Card Game Blues," you'll step into the shoes of Mario and groove to the beat while playing slots with Luigi. It's a musical showdown like no other, and it's bound to keep you entertained!
Introduction
"FNF Card Game Blues" is a one-song FNF mod created by Octigone, adding a fresh and entertaining twist to the beloved game. In this mod, you'll join the iconic Mario and Luigi as they engage in a rhythmic battle against each other, all while playing slots to win fantastic rewards.
How to Play
Playing "FNF Card Game Blues" is a breeze, even if you're new to Friday Night Funkin'. Here's how it works:
Choose Your Character: You'll take on the role of Mario, the legendary video game hero known for his red cap and blue overalls. Your opponent? None other than Luigi, Mario's trusty brother in green.

Get Ready to Groove: As the music starts playing, you'll need to hit the correct arrow keys in time with the beat. Watch out for arrows that scroll toward you and match your keystrokes to the rhythm.

Slot Machine Showdown: While you're busy grooving to the music, Mario and Luigi will be playing slots in the background. Their goal is to hit the jackpot and secure a rewarding prize. Keep an eye on the slots, as they might just determine the winner of this musical duel.

Enjoy the Music: "FNF Card Game Blues" features a catchy and upbeat tune that perfectly complements the slot machine action and dance-off. Let the music guide your moves as you aim to outperform Luigi.

Win the Rap Battle: To emerge victorious in this unique FNF mod, you'll need to keep up with the rhythm, hit the arrows accurately, and hope that the slot machine grants you favorable outcomes. Be prepared for a fun and engaging rap battle unlike any other!
Take a Spin with Mario and Luigi
"FNF Card Game Blues" is a delightful addition to the Friday Night Funkin' mod collection, offering players a lighthearted and entertaining experience. Whether you're a longtime fan of the Mario franchise or simply looking for a unique twist on FNF gameplay, this mod has something special in store for you.
So, what are you waiting for? Join Mario, Luigi, and the catchy tunes in "FNF Card Game Blues." Take a spin, groove to the beat, and see if you have what it takes to win in this memorable rap battle!